Welcome to Issue 69 of the SUPERIOR BOOK PRODUCTIONS newsletter!
Happy Holidays, Everyone!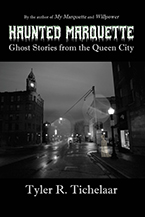 I'm always busy at this time of year, but no complaints when people want to put books under their Christmas trees.
If you live in the Marquette area, please join me for a couple of events I'll be doing soon where I'll be signing copies of my new book Haunted Marquette as well as any of my older books you might be interested in—and I'll be joined by several of my fellow authors.
Local Author Extravaganza: Snowbound Books, Marquette, MI
Saturday, December 2.
Join me and my fellow authors. So many authors are coming we have to do shifts:
12-2p.m.
Russ Magnaghi, author of Upper Peninsula of Michigan: A History
Cyndi Perkins, author of More Than You Think You Know
Tyler Tichelaar, author of Haunted Marquette
2-4 p.m.
Karl Bohnak & Jack Deo, authors of Sunburns to Snowstorms
B. G. Bradley, author of Winter Heart
Rich Hill, author of Lost in the Woods
Sonny Longtine, author of U.P. People
TV6 Christmas Craft Show, Superior Dome, Marquette, MI
December 8–10
Fri. 5-9 p.m., Sat 10-6, Sun 11-4.
I'll be in booth 277, my usual spot, for this year's craft show. Other authors at the event will include:
Gretchen Preston, author of The Valley Cats series
Larry Buege, author of Cold Turkey and Chogan and the Gray Wolf
Sonny Longtine, author of U.P. People
Books always make great gifts so come out and support your local authors.
And if you don't live in Upper Michigan, you can find all these authors' books online, and of course, check out all the other great authors below who live all over the United States. I've chosen a particularly fine selection for the holidays.
I wish you a very happy holiday season and look forward to keeping you updated on great books in 2018.
This Month's Great Book Quote:
"N ever trust anyone who has not brought a book with them."



— Lemony Snicket, Horseradish: Bitter Truths You Can't Avoid
---
Beyond the Wisdom of Walt by Jeffrey A. Barnes is the follow up to Dr. Barnes' first book, The Wisdom of Walt, and what a magical follow-up book it is. While The Wisdom of Walt chronicled the history of Disneyland and used it to teach readers how to dream big, Beyond the Wisdom of Walt goes beyond the first book, continuing the story by describing Walt Disney's dreams for what would become Walt Disney World and Epcot Center. Each chapter is filled with Disney history and trivia as well as Dr. Barnes and his wife Niki's personal experiences at the Disney parks, but the book is far more than another Disney book. Barnes writes first and foremost to encourage his readers to have their own dreams and take actions to make them come true.
To read more, visit Beyond the Wisdom of Walt.
---
In Why They Buy: Cracking the Personality Code to Achieve Record Sales and Real Wealth, entrepreneur Cheri Tree reveals her game-changing system that will help any salesperson connect with his or her prospects in a way that will seal the deal and create win-win situations for everyone.
Being in sales is one of the toughest jobs out there, but the truth is that we are all in sales. If we're not trying to sell a product to our customers, we're trying to sell our kids on eating their vegetables or our employer on giving us a raise. Every day, we are faced with situations where we need to "sell" (promote our agenda or viewpoint), and we can achieve more success in all these sales situations when we learn the personality code of the person we're trying to sell to. How do we do that? By using Cheri Tree's B.A.N.K. system that she outlines in simple and practical detail in this book.
To read more, visit Why They Buy.
---
James F. Johnson's debut novel Disaster Island is a roller coaster of wows as we watch thirteen-year-old Kyle Rickett spiral downward during the summer that will change his life forever. As the first novel in the Bullies & Allies trilogy, Disaster Island prepares the reader for a powerful journey as one boy copes with sexual abuse, family dysfunction, and gaslighting to the point where he isn't sure who is his ally and who his friend.
The story opens when Kyle and his best friend Connor have an accident while riding their bikes. Kyle is wounded in his upper thigh and needs to have stitches. He objects to going to see the family doctor, Krieg, a friend of his father's. Krieg used to be the leader of his Voyager Scouts troop when Kyle was younger, and once in the doctor's office, he begins having flashbacks to scenes from several years earlier that caused him to leave the Voyager Scouts. His mother, however, insists that he go to the doctor, and while Krieg and the nurse clean and stitch up Kyle's wound, his mother also stands by and does nothing when Krieg touches Kyle inappropriately.
To read more, visit Disaster Island.
---
The Goat Driver, James F. Johnson's second installment in the Bullies and Allies series, picks up with fourteen-year-old Kyle Rickett being sent to live with his grandfather in Minnesota. After a series of traumatic incidents in Disaster Island, in The Goat Driver, things will start to turn around for Kyle. The title refers to the driver of a yellow GTO, a vehicle that car buffs call a "Goat." It is Kyle's favorite car, and he cannot believe it when Tuck Taylor, a twenty-one-year-old young man who is the grandson of Kyle's grandfather's best friend, is sent to pick him up at the train station because Kyle's grandfather, Louie, is busy performing at a festival—Louie is an accordion player and dresses in a German folk costume.
Despite the fact that Tuck drives Kyle's favorite car, Kyle isn't sure at first how to react to him. He has been so traumatized that he is upset that his grandfather didn't come himself to pick him up. Before long, Tuck and Kyle are having an argument. Kyle is being rather snotty and Tuck is hoping he never has to see the kid again once he delivers him to his grandfather.
To read more, visit The Goat Driver.
---
I absolutely love the title of Nicole Evelina's new scholarly book The Once and Future Queen. Although there are no legends claiming Guinevere will return like there are of Arthur, she is Arthur's counterpart and deserves equal treatment. To date, Guinevere has not received anywhere near the amount of attention, much less full-length studies of her character as Arthur has. In fact, the only full-length book on her I'm aware of, Norma Lorre Goodrich's Guinevere, is a mish-mash of pseudo-historicity that must be taken with a grain of salt. Nicole Evelina, however, doesn't delve into trying to claim whether or not Guinevere was historical. Instead, she takes a more scholarly and practical approach by looking at how Guinevere has been treated throughout literature from the earliest Welsh Triads to present day novels, including her own.
To read more, visit The Once and Future Queen.
---